The South Holston continues a great schedule for wade fishermen. Early morning midge bite is good around Osceola. Sulphur hatch starts around 11:00 on upper river and lasts several hours. CDC Comparadun, Puffy Daddy, and SH emerger orange #18 are working. There is a great mix of bugs on the water throughout the day. Black Caddis, BWO and Black Fly patterns are working. Elk Hair Caddis All Black, BWO Puff Daddy, and Mercury Black Beauty #20 are top picks. We are seeing a good Sulphur hatch on middle river this week around 2:30. Steady hatch from Big Springs to Weaver Pike. Small bugs are working, and fish are not picky. Sulphur Mayflies #18-20 will work.
Watauga River will continue a recreation flow throughout Summer. Great time to fish all sections with Dry- Dropper rigs. Tan Chubby #16 & Rods Tube BWO #18 are catching fish. We are still seeing small Sulphurs on falling water in the evening. The afternoon highwater bite has been fishing great.  All your standard Taug nymphs are working well. Jig Frenchies , Hot Spots and Soft Hackles. The fishing pressure has slowed down and our guide are seeing more quality fish in the net!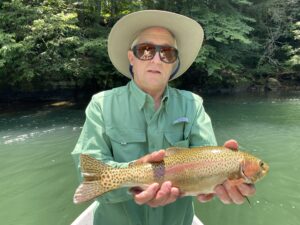 Watauga Rainbow from Matt Champion's Boat
GO FISH!