The South Holston continues a great schedule for wade fishermen. The upper section is fishing good mid morning with Midges and Split Backs. We are starting to see large Sulphur hatch around 2:00 and strong throughout the afternoon. Fish are not picky #16 Comparadun or Parachute PMD & Puff Daddys work. There are spinners below Osceola at 7:00 till dark. #16 CDC Biot Spinner Rusty & PMD are a must. Middle River is a little more challenging but fishing good. Sporadic Sulphurs, BWOs and small Black Caddis on the water all afternoon. Fish are selective and mainly eating CDC Sulphur patterns and emergers. #16-18 Puff Daddy, Orange and Yellow Soft Hackles are catching fish. Spinners are heavy 8:00 till dark.
The Watauga River has started its Recreation flow. This schedule is usually good for wade and float fisherman. Watauga has been fishing excellent and high numbers of smaller fish being caught. We are seeing Sulphurs on the upper and middle river around 11:00. Dry Dropper has been the most effective on all flows. #16-18 Biot Comparadun Sulphur, #16 Chubby Tan with #16-18 Frenchie variations and Hot Spots. Midges are working as a second drop or shallow runs. #20 Stripper, Sweet thing and Rainbow midge are top picks.
Our Guides are having huge success on both rivers. Full Day trips are getting a good opportunity to Nymph and Dry fly fish! The Lake levels are full and hope to see some high water on Soho in the near future … Call or book online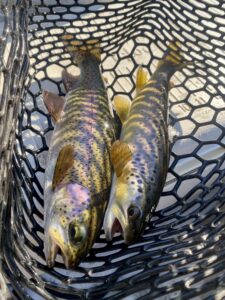 It's not a fish until it's in the net
GO FISH !!!