The South Holston has had a great schedule for float fishing and afternoon wading. The entire river is fishing good with large eggs, midges and PT variations. The Micro Spawn #12 Yellow & Orange are working great as point flies. Black & Purple Midges #18 and English PT #20 are catching fish. We are seeing a good BWO hatch at Jacks around noon and in the Gorge till three. Fish are not picky, CDC Comparadun #20 works. Low water is fishing good on upper river from two till dark. BWO and Grey Mayhem #20, Scooter Midge #20 and Sweet Thing #20 are a must. Fish are eating midges off the surface late afternoon around the Weir. Use Adams #20-24 and Griffiths #20-22 for these rising fish. Trout Hunter 8X, 9X and 10X in stock!
Watauga River is fishing good. Post spawn streamer fishing is excellent. All Galloup patterns are fishing good. Dungeons and Peanut Envy #2 Natural and Olive are moving fish. Boogieman #2 Rootbeer, and Yellow are top pick.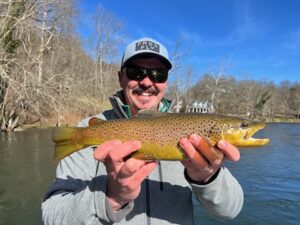 Nice Brown from Matt Champion's boat this weekend. Great work Connor!
Book a trip online or call the shop for more information
GO FISH ! ! !